Positive reaction to discovery at Isobel Deep well in North Falklands basin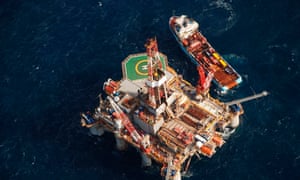 Falklands oil company Rockhopper Exploration has pleased the market with its latest update.
Its shares have soared 11% to 27p after it announced an oil discovery at the Isobel Deep well in the north Falklands. Rockhopper has a 24% interest in the well, but this will rise to 64% once it completes its merger with Falkland Oil & Gas, up 9.5% at 8p. It is operated by Premier Oil, down 0.25p at 29.75p.
Rockhopper's chief executive Samuel Moody said:
Proving oil this far down dip in the Isobel Deep reservoir, in addition to confirming oil bearing sands at a location so close to the edge of the various other fan bodies is an outstanding result and hugely increases the likelihood that the Isobel/Elaine complex can become a third phase of development in the North Falkland basin.
Premier exploration director Robin Allan said:
[This] confirms the potential of this part of the North Falkland basin as a standalone discovery. [It] is extremely encouraging for the prospectivity of the area with a proven petroleum system and a number of prospects established.
Liberum analysts issued a buy recommendation on Rockhopper, saying:
The success of the well is welcome given that, following the announced merger with Falkland Oil & Gas, Rockhopper's interest in the licence will significantly increase to 64%. We noted earlier that the second well on the Isobel/Elaine complex represents a good chance to increase significantly the volume of proven oil in the North Falklands basin including in a number of further fan bodies in the Isobel area, which have never previously been drilled.

The result should re-establish interest in North Falklands after the recent progress in the Mediterranean where we expect Rockhopper's to build its Greater Mediterranean portfolio.
Analysts at SP Angel were also positive, saying:
We believe this is good news not only for Rockhopper and its operating group, but other players in the Falklands too. While testing will have to be undertaken before commerciality can be assessed, we believe that this is good news, and with Sea Lion already a commercial discovery, we believe that the barriers to commerciality are lower than they would otherwise have been.
But Stifel was more negative, issuing a sell note:
While encouraging to find oil at such a distance down-dip from the original well penetration, the find doesn't appear to be a knock-out, with much of the 300m column finding non-pay, seemingly having clipped the edge of various stacked fan systems…

While the find looks worth appraising ("highly likely" commercial, according to management), no further drilling is currently planned. As such, we think it will remain as upside in any potential North Falkland farm-in discussions but in a much better oil price environment than today's. We remain sellers of both Rockhopper and Premier and we see this as a good opportunity for investors to exit their positions in these names, should the shares react positively to the rather limited data in this morning's press release.

[Source:- the gurdian]