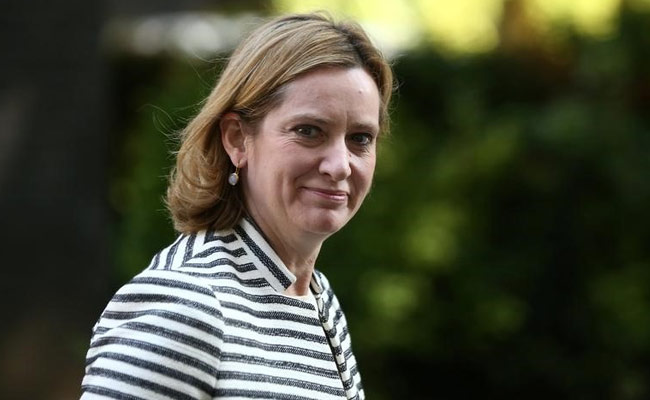 Amber Rudd may become finance minister Theresa May wins a landslide victory (Reuters)
LONDON: British finance minister Philip Hammond may be replaced by interior minister Amber Rudd if Prime Minister Theresa May wins a landslide victory in next week's national election, the Telegraph newspaper reported on Friday.
Doubts about Hammond's future have mounted since he had to reverse plans to raise payroll taxes for self-employed workers just days after presenting his first annual budget in March, while Rudd has played a highly visible role in the election.
The Telegraph cited senior government sources as saying that Rudd, a former investment banker and venture capitalist, had the qualities needed to run Britain's finance ministry and that they could "see it happening".
"If the Prime Minister has a very big majority she will be able to do what she likes – the bigger the majority, the bigger the reshuffle," one unnamed minister was quoted as saying.
A spokesman for May's Conservative Party said the report was "complete speculation, rather irrelevant speculation before an election."
Hammond has annoyed many Conservatives who favour a clean break with the EU by stressing the need for a Brexit deal that allows firms to keep hiring the migrant workers they need.
He has slowed the push to turn Britain's budget deficit into a surplus but is wary about significantly relaxing the government's grip on spending or cutting taxes.
"So the extent of fiscal easing could increase should he be replaced," said Marco Cecchi, a fund manager with Pioneer Investments.
Hammond last publicly appeared alongside May at a campaign event more than two weeks ago, when reporters repeatedly asked the pair about a rift between them.
After declining to answer questions about whether she planned to keep Hammond in his job,May was asked if she was happy to endorse him. "Happy to do so, very happy to do so," she said, while Hammond played down reports of a rift as "tittle tattle".
Rudd – who would be the first woman to become Britain's finance minister – stood in for May on Tuesday when the prime minister declined to attend a television debate between party leaders.
May's Conservative Party looked on track to win a large parliamentary majority when she called an early election in April which she hoped would bolster her position in talks to leave the European Union.
But since then the Conservatives' lead over Labour has narrowed. Polling company YouGov has estimated the party could even fall short of the seats needed for an outright majority.
The Telegraph quoted another minister as saying May might prefer to keep Rudd as interior minister and replace Hammond – the most publicly pro-European and pro-business member of her top team – with defence minister Michael Fallon.
"Whoever is chancellor, they want someone who will work with Number 10 and share, not keep it to themselves. They want a compliant chancellor, not an ego. Amber and Fallon both tick the box," the minister said.
(Reporting by David Milliken, Elisabeth O'Leary and William Schomberg; Editing by Hugh Lawson)
["Source-ndtv"]