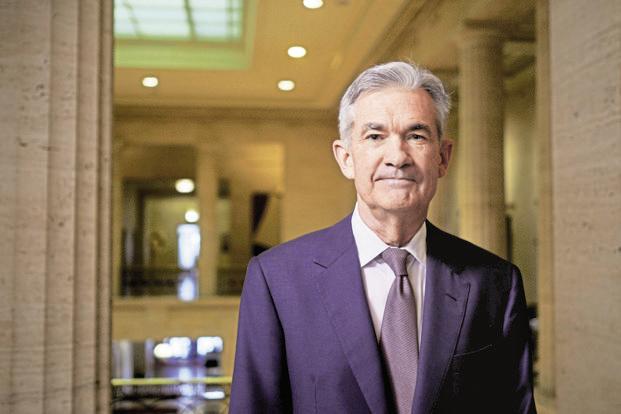 New York: US Federal Reserve officials, meeting for the first time under chairman Jerome Powell, raised the benchmark lending rate a quarter-point and forecast a steeper path of rate hikes in 2019 and 2020, citing an improving economic outlook. Policy makers continued to project a total of three interest rate hikes this year.
"The economic outlook has strengthened in recent months," the policy-setting Federal Open Market Committee (FOMC) said in a statement Wednesday in Washington. Officials repeated previous language that they anticipate "further gradual adjustments in the stance of monetary policy".
The upward revision in their rate path suggests US Fed officials are looking through soft first-quarter economic reports and expect a lift this year and next from tax cuts passed by Republicans in December. Financial conditions have tightened since late January as investors look for signs that the central bank might go for rate hikes at a faster pace, while forecasters predict stronger US growth and tight labour markets.
The vote to lift the federal funds rate target range to 1.5% to 1.75% was a unanimous 8-0.
The latest set of quarterly forecasts showed that policymakers were divided over the outlook for the benchmark interest rate in 2018. Seven officials projected at least four quarter-point hikes would be appropriate this year, while eight expected three or fewer increases to be warranted.
In the forecasts, US Federal Reserve officials projected a median federal funds rate of 2.9% by the end of 2019, implying three rate hikes next year, compared with two 2019 moves seen in the last round of forecasts in December. They saw rates at 3.4% in 2020, up from 3.1% in December, according to the median estimate.
Inflation pickup
In another change to the statement, the central bank said US inflation on an annual basis is "expected to move up in coming months," after saying "move up this year" in the January statement. Price gains are still expected to stabilize around the Fed's 2% target over the medium term, the FOMC said.
The central bank's preferred price gauge rose 1.7% in the 12 months through January and officials projected it to rise to 2% in 2019 and hit 2.1% the following year, the latest estimates showed. The estimates for inflation excluding food and energy, which officials see as a better way to gauge underlying price trends, rose to 2.1% in 2019 and 2020 from 2% seen in December.
"Job gains have been strong in recent months, and the unemployment rate has stayed low," the FOMC said. The statement said that household spending and business investment "have moderated" from strong fourth-quarter readings.
The statement also repeated previous language that "near-term risks to the economic outlook appear roughly balanced."
Powell will hold his first post-FOMC press conference at 2:30pm local time.
Supply, demand
The US Fed's goal is to keep supply and demand in balance in the economy amid a tight labour market, without lifting borrowing costs so quickly that the economy stalls.
Officials have had to factor in the impact of fiscal stimulus signed by President Donald Trump since their previous projections.
The median estimate for economic growth this year rose to 2.7 from 2.5% in December, signaling confidence in U.S. consumers despite recent weak readings on retail sales that have pushed down tracking estimates of first-quarter activity. The 2019 estimate rose to 2.4% from 2.1%.
The committee's forecast for the long-run sustainable growth rate of the economy was unchanged at 1.8%, suggesting policy makers are still sceptical of the effect of tax cuts on the economy's capacity for growth. The 2020 gross domestic product growth median projection was also unchanged at 2%.
While US unemployment of 4.1% is the lowest since 2000, wage growth has remained moderate and inflation has been below the Fed's target for most of the last five years.
The median projection for the long-run fed funds rate ticked up to 2.9% from 2.8% in December. The Fed had been gradually reducing its estimate of the long-run neutral fed funds rate since it began publishing its calculations in January 2012.
Estimates for the long-run sustainable unemployment rate also declined, pushing the median down to 4.5% from 4.6% seen in December.
["Source-livemint"]