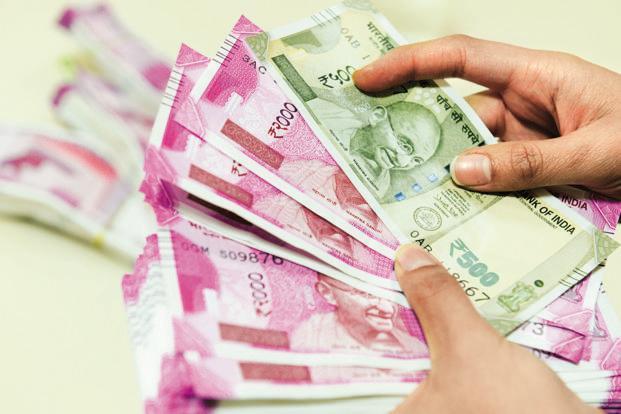 What is special about Franklin Templeton Asset Management (India) Ltd launching a new fixed maturity plan (FMP)? On 20 March, it launched a new fund called Franklin India Fixed Maturity Plan Series 3 Plan D (1,132 Days). The mutual funds industry has launched 253 FMPs, in this financial year (2017-18), so far, as per Value Research data.
But Franklin Templeton's FMP launch is different. Its last FMP was in March 2007. After launching a single FMP in 2016-17, it has launched nine so far in this financial year. What explains this sudden love?
While retail investors largely invest in equity funds, a fund house's institutional clients – like companies—prefer to invest in debt funds to park their short-term surpluses to earn superior returns. But because their investment's time horizon, these companies prefer safety over high returns. And here's where, distributors tell us, companies didn't invest in Franklin Templeton's debt funds as much as they did in other fund houses.
In the past many years, Franklin Templeton India's debt funds largely preferred to invest in corporate bonds of companies that, it feels, are well-managed, but suffer from a weak credit rating. Although Santosh Kamath, managing director – fixed income, Franklin Templeton Investments, India, has government securities funds under his fixed income funds' division, for the past many years, much of Templeton's debt funds have focused on identifying weak credit rated companies but where the fund houses sees potential; an area where Kamath and his team earned many bouquets and some brickbats over the years.
Among the top 15 fund houses in terms of fixed income assets, 78.9% of Franklin Templeton's fixed income assets lie in securities rated AA & lower; the most in such companies. L&T Investment Management Ltd comes closest, with just 38.3% of its fixed income assets in these companies. Just 21.1% of Franklin Templeton's fixed income assets lie in G-Secs; the least allocation to G-Secs by the top 15 fund houses in terms of their debt funds' assets.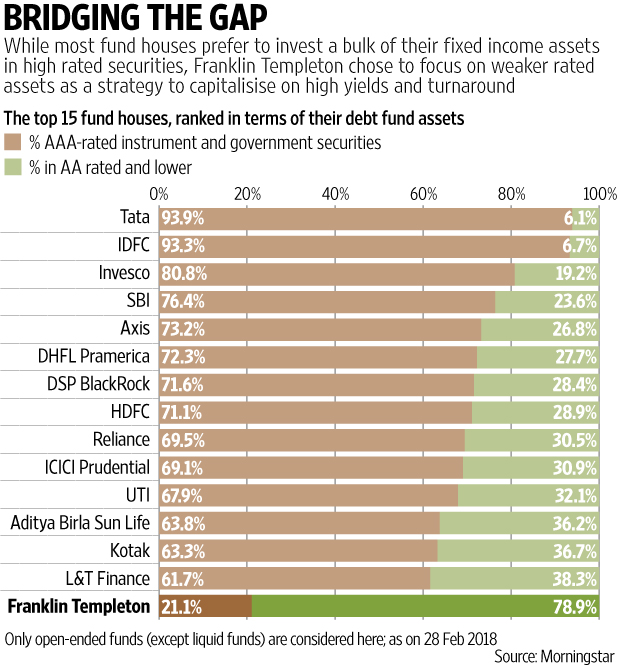 Click here for enlarge
"Franklin Templeton has not been getting institutional money. Large companies have enough funds to invest from other fund houses such as HDFC Mutual Fund, Aditya Birla Sun Life Mutual Fund, UTI Mutual Fund and so on. Corporates do not like to invest in bond funds that take credit risk. They want safety", says a large distributor who did not wish to be quoted.
The mutual funds industry launched 288 FMPs in financial year (FY) 2015-16, 216 FMPs in FY2016-17 and 253 FMPs in FY2017-18 so far.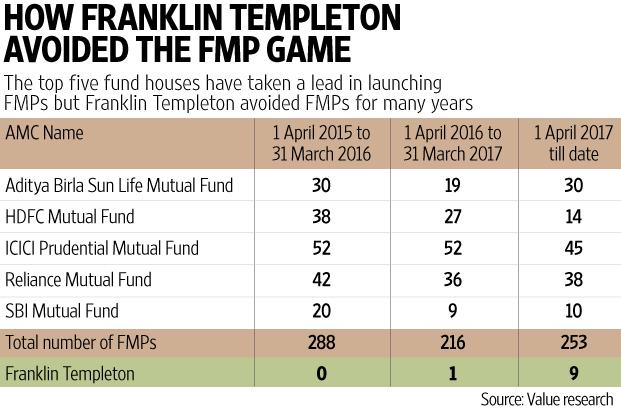 Click here for enlarge
While the fund house is said to be popular among retail investors, it's handling of Jindal Steel and Power Ltd (JSPL) after two downgrades of JSPL debt papers, as well as the many debt schemes of the fund house containing low credit-rated instruments is said to have spooked many institutional clients.
To be fair, Franklin Templeton's debt schemes comes with a good track record, but institutional customers typically prefer higher rated assets. That is also why Franklin Templeton's FMPs aims to invest the corpus in high-rated (AAA-rated) assets.
"While we have a strong product line-up in the managed credit space, we do have a few gaps in the high credit space including closed ended funds like FMPs. We seek client feedback and review our fund range periodically; one of the requirements our customers highlighted was for high credit FMPs. Their introduction has not only helped to make our product suite more holistic but also helped us diversify our investor mix", said Sanjay Sapre, president. Franklin Templeton Investments-India.
["Source-livemint"]