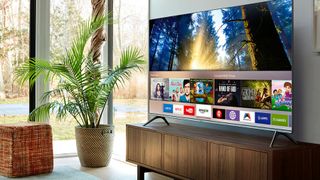 T3 Deals is the go-to destination for all the best prices on tech and games on the internet.
We update daily with links to the best deals on miscellaneous tech and games, with dedicated sections for all your favourite products!
And what's more, we're getting all the latest pre-Black Friday deals in as well – check them out!
Philips 49PUS6401 49 Inch 4K Ultra HD Ambilight Smart TV now £449 at argos.co.uk
Samsung UE55KS7000 Smart 4k Ultra HD HDR 55″ LED TV now £999 at Currys
Bush 55 Inch Full HD Freeview HD LED TV now £299 at argos.co.uk
LG 49UH620V: Smart 4k Ultra HD HDR 49″ LED TV now £479 at Currys
Samsung UE55KU6400: Smart 4k Ultra HD HDR 55″ LED TV, use code TV30 now £669 at Currys
Samsung UE55KS7000: Silver – 55inch 4K Ultra HD TV with Quantum Dot Colour, Freeview HD and Built in Wifi 4x HDMI and 3 USB Ports, use the code TVS100 now £999 at Co-op Electrical Shop
Samsung UE40KU6000: 40″ 6 Series Flat UHD Smart TV now £406.80 at Amazon UK
LG OLED55B6V: Smart 4k Ultra HD HDR 55″ OLED TV & get 12 months Sky Q free now £1999 at Currys
Sony KDL48WD653BU: 48 Inch FHD Smart LED TV now £349 at argos.co.uk
LG 43UH650V 43 Inch Ultra HD 4K Web OS Smart LED TV now £399 at argos.co.uk
Samsung UE55KS7000 SUHD HDR 1,000 4K Ultra HD Quantum Dot Smart TV, 55" with Freeview HD, Playstation Now & Branch Feet Design, UHD Premium now £1099 at John Lewis
Sony Bravia KD43XD8088BU Smart 4K Ultra HD HDR 43 Inch LED TV now £616.55 at Tesco Direct
JVC LT-32C650: Smart 32″ LED TV now £149 at Currys
Roku: Streaming Stick now £28.49 at Amazon UK
Samsung UE55KS7000 SUHD HDR 1,000 4K Ultra HD Quantum Dot Smart TV, 55" with Freeview HD, Playstation Now & Branch Feet Design, UHD Premium now £1099 at John Lewis
Google Chromecast Audio now £19.99 at MyMemory.co.uk
Consoles
Xbox One Name Your Game & Forza Horizon 3 Bundle – 500 GB now £169.99 at Currys
Xbox One Elite Bundle – 1 TB now £189.99 at Currys
PS4 Slim: 500GB plus 1 free game & a 2 year guarantee, Choose from Battlefield 1, Titanfall 2, Uncharted 4 or FIFA 17 now £227.95 at John Lewis
Xbox One S: 500GB with FIFA + Forza Horizon 3 + Rise of the Tomb Raider now £249.95 at Amazon UK
Xbox One S: 500GB Fifa 17 bundle with Call of Duty: Infinite free now £237.49 at Tesco Direct
PS4 Slim: 500GB Call of Duty Infinite Warfare Console and The Division now £239.99 at argos.co.uk
Games
50% off of games and accessories at Game
A.O.T Wings Of Freedom On PS4 now £24.85 at Simply Games Ltd
The Witcher 3: Wild Hunt Game of the Year Edition on Xbox One, use the code SMS12 now £22.87 at Zavvi
Street Fighter V On PS4 now £14 at Tesco Direct
Call of Duty: Infinite Warfare On Xbox One & PS4 now £69.99 at Simply Games Ltd
Dragonball XenoVerse On PS4 now £19.99 at Amazon UK
LEGO Dimensions: Starter Pack On PS4 now £28.50 at Amazon UK
Mafia III: On PS4 now £29.95 at The Game Collection
Batman: Arkham Knight: On PS4 now £10.95 at The Game Collection
Just Cause 3: On Xbox One and PS4 now £16.99 at argos.co.uk
Lego Dimensions: Starter Pack: Available on all platforms now £29.99 at argos.co.uk
MX Vs. ATV: Supercross Encore: On Xbox One now £16.04 at Amazon UK
Pokemon Moon: On Nintendo 3DS now £29.99 at Toys R Us & Babies R Us
Pokemon Sun: On Nintendo 3DS now £29.99 at Toys R Us & Babies R Us
Guitar Hero Live: With the guitar on PS4 now £20 at Tesco Direct
Killzone – Shadow Fall: On PS4 now £9.98 at Laptopsdirect UK
Phones
ZTE Blade V7 Lite: Android smartphone with 13 megapixel camera with £10 top up now £99.99 at Carphone Warehouse
Headphones & audio
Sony: Wireless Stereo Headset 2.0 now £47.49 at Tesco Direct
Apple Earphone: with Microphone and Remote for iPhone – Non-Retail Packaging – White now £6.96 at Amazon UK
Sony MDR-XB50AP: In-Ear Extra Bass Headphones with In-Line Control – Black now £19.99 at Amazon UK
Monster iSport v2 Victory: Headphones – Black now £39.97 at Currys
Sennheiser HD 202: Closed Back On-Ear Stereo Headphone now £18 at Amazon UK
Computing
DELL UltraSharp U2515H: IPS QHD HDMI DisplayPort LED 25″ Monitor now £269.98 at Laptopsdirect UK
Goji GMWLWHT15: Wireless Blue Trace Mouse – White now £6.99 at Currys
WD 1TB Elements: Portable External Hard Drive – USB 3.0 now £49.99 at Amazon UK
TP-LINK: 600MBPS Nano Powerline now £22.99 at argos.co.uk
Canon Pixma MG3050: All-in-One Wireless Inkjet Printer now £29.99 at Currys
Logitech M185: Wireless Mouse – Red now £8.29 at Amazon UK
Lenovo YOGA Tab 3 Pro: 10in 32GB Tablet – Built-In Projector now £349.99 at argos.co.uk
Gadgets & other
Anker: 6ft Nylon Braided USB iPhone Cable now £6.99 at Amazon UK
Anker Astro E1: 5200mAh Ultra Compact Portable Charger now £11.99 at Amazon UK
Gadgets & other
Ankoda: 3Pack 3.3ft/1M Nylon Braided Lightning to USB Cable now £6.59 at Amazon UK
Topop 8 x 21 Compact Binoculars: Folding Telescope with Clean Cloth and Carry Case now £8.29 at Amazon UK
Manfrotto Monopod: Portable and lightweight camera stand now £8.99 at EBAY-GB

[Source:- T3]