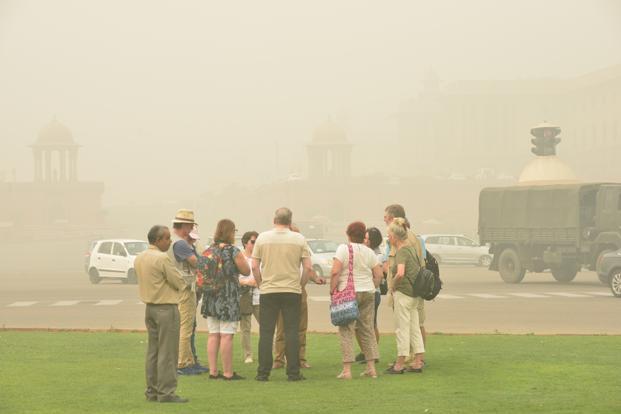 New Delhi: The Delhi government on Wednesday announced that all schools in the national capital will remain closed till Sunday in view of the "unbearable" air pollution. The air quality in Delhi is turning worse, deputy chief minister Manish Sisodia said.
"Can't compromise with the health of children. All schools including private and government will remain closed till Sunday for all the classes," Sisodia said in a series of tweets.
The government had on Tuesday directed that primary schools would be closed today. It had also ordered suspension of outdoor activities for secondary classes.
The decision came after the Air Quality Index (AQI) touched 448 in a scale of 500, entering 'severe' category. Today, the AQI was worse at 484.
The Delhi government had on Tuesday issued a health advisory for high risk people, including children, the elderly and those suffering from asthma and heart ailments.
"The air pollution has become unbearable affecting all. It has engulfed the city. The reasons for this may be varied from stubble burning in Haryana and Punjab to vehicular/ construction pollution but the fact remains that it is affecting the health of Delhi's citizens," an official order from Sisodia's office said today. "The situation shall be reviewed on Sunday," it added.
Also Read | Delhi smog: Don't step out, cut down outdoor activity, say doctors
The Indian Medical Association on Tuesday asked the Delhi government to stop all outdoor activities and sports in schools.
Doctors in the national capital have advised residents to avoid stepping out or indulging in outdoor activities during the early morning and evening hours in view of "severe" levels of air pollution in the city.
"Pollutants get trapped closer to the ground when the temperature is low and there being no wind, it is in its peak, especially in the early morning and late evening hours. "It is better to go out when it's bright and sunny," AIIMS director Dr Randeep Guleria said.
The Environment Pollution (Prevention and Control) Authority (EPCA), which is tasked with implementation of GRAP, also met on Tuesday and asked governments of Delhi and adjoining states to take a series of immediate steps to control pollution.
Also Read | Delhi smog to continue for next two days
When air quality touches "severe" level, it causes respiratory problems to even healthy people and seriously impacts those with existing diseases. In such conditions, outside exposure and activities, including intense physical activities should be minimised.
EPCA also directed immediate measures like closing of brick kilns, stone crushers, intensification of public transport service, increasing frequency of service of Delhi Metro, intensification of mechanized road sweeping and sprinkling of water, continuation of the ban on use of generator sets in Delhi, immediate enhancement of parking fee by four times, ban on use of coal and firewood in hotels and eateries and others.
["Source-livemint"]