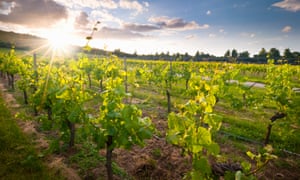 A record number of English wine companies were launched last year, as new vineyard owners sought to capitalise on a growing taste for their products.
Sixty-four new wine businesses put down roots in England and Wales during 2016, up 73% on the previous year, according to HM Revenue and Customs.
Industry experts put the rise down to factors including demand from abroad as a result of the weak pound and growing recognition around the world that English wine is not to be scoffed at.
The success of existing producers has also encouraged entrepreneurs to try their hand at making English wine – not to be confused with British wine, which is made from imported grapes and generally considered of lower quality.
Kent-based Chapel Down, England's leading winemaker, reported wine sales up 22% to £6.8m last year. Norfolk's Winbirri Vineyards was named the surprise winner of the world's best value single-variety still white wine in the prestigious Decanter World Wine Awards earlier this month.
While the UK's climate makes it tough to produce quality red wine, the south of England has developed a reputation for whites – in particular sparkling wines. The area has even attracted investment from French champagne house Taittinger, which recently planted a vineyard near the Kent village of Chilham.
Taittinger's move is the first time a grande marque champagne house has grown vines in the UK, with the aim of producing a top-quality English sparkling wine. Its first bottles should be ready in 2023.
"Word has spread of the world-class wines being made by the pioneers in the English wine industry," said Miles Beale, the chief executive of the Wine and Spirit Trade Association. This has attracted investors who have shown the foresight to see English wine's potential and who are prepared to be patient.
"The new problem facing UK winemakers is that there are not enough grapes to meet demand. With the number of awards for English wine piling up year-on-year, planting more vineyards to meet that demand makes good economic sense."
The weather has been a problem this year after hard frosts prompted English winemakers to say in April that at least half of the year's grape harvest had been wiped out.
The fact that English vineyards are winning global acclaim is encouraging budding winemakers into the industry, according to James Simmonds, a partner at accountancy firm UHY Hacker Young. "English wine production – in particular English sparkling wine – is now being taken seriously on both a local and global platform which has enabled the industry to thrive," he said.
Simmonds said the slump in the pound since the Brexit vote had also made English wine more attractive, both for foreign buyers and British oenophiles who are paying more for imported bottles.
"As the cost of exporting to Europe falls and imports are rising, English sparkling wine has an opportunity to become a real contender for prosecco and champagne in the global market. With Brexit now on the horizon, it is more important than ever to support local industry and to cement the UK as a globally recognised exporter of high-quality goods."
There are 502 vineyards in England and Wales, as well as 133 producers making wine from other people's grapes, according to English Wine Producers, with production reaching 5m bottles a year. About 1m vines will be planted in the next year, which will result in 2m more bottles of English wine a year, according to the Department of Environment, Food and Rural Affairs.
[Source"timesofindia"]