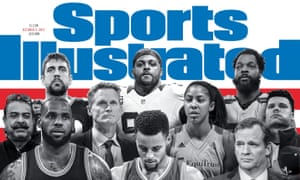 Earlier this week, Sports Illustrated used Twitter to publicize its newest magazine cover. Against the American flag, a bricolage of professional athletes, coaches and owners lock arms around the tidy and seemingly uncontroversial phrase "A NATION DIVIDED, SPORTS UNITED." It was a clear response to Trump's stinging attack on the NFL.
The digitally altered image creates a patchwork of athletes including LeBron James (NBA), Steph Curry (NBA), Candace Parker (WNBA), Bruce Maxwell (MLB), Aaron Rodgers (NFL), Cameron Jordan (NFL), and Michael Bennett (NFL) arm-in-arm with Golden State Warriors coach Steve Kerr, Jacksonville Jaguars owner Shahid Khan, and NFL commissioner Roger Goodell.
Colin Kaepernick's erasure is deafening.
Kaepernick, the former quarterback for the San Francisco 49ers, launched a national conversation in August 2016 when he refused "to stand up to show pride in a flag for a country that oppresses black people and people of color".
Kaepernick's inexplicable absence from Sports Illustrated's cover renders the image laughably incoherent. In many ways, it also creates a cultural vacuum for the public to import its calls for civility, respect and patriotism into a flimsy narrative of "unity". The political incoherence, however, extends beyond the magazine's omission of Kaepernick.
Figures like Michael Bennett, Bruce Maxwell and Steve Kerr have all either knelt for the national anthem in protest of racialized forms of police violence or publicly supported such gestures. Others like Shahid Khan and Roger Goodell, however, have appeared unconcerned by such injustices until President Trump recently criticized the NFL. Khan, in fact, is one of seven NFL franchise owners to donate at least $1,000,000 to President Trump's inaugural committee.
Furthermore, whereas the NBA and NFL appear well represented, the influence of the WNBA – a league in which scores of players have spoken out against systemic racial oppression since at least July 2016 in the wake of the killing of Philando Castile by a Minneapolis-area police officer – is vastly marginalized.
These absences and distortions matter, particularly when they are being perpetrated by a fixture of global popular culture like Sports Illustrated.
In his 1998 essay entitled Notes on Deconstructing the Popular, cultural theorist Stuart Hall argues that "popular culture is one of the sites where [the] struggle for and against a culture of the powerful is engaged".
In other words, popular culture is a site of struggle; it serves as a terrain on which questions of power, memory, and meaning are contested and debated. The latest Sports Illustrated cover represents one such struggle for power.
Those interested in eliminating racial injustice should be concerned that Sports Illustrated is recasting Kaepernick's movement against racialized forms of police violence as a call for unity against President Trump. This erases and distorts Colin Kaepernick's deep critique of systemic racial oppression, which has a long history in the United States.
Intentional or not, this kind of political shift should be far from surprising. As we have written before, history has proven that white supremacy uses popular culture to reframe – and undermine – political debate all the time.
The movement Colin Kaepernick launched last year must refuse to cede the pointed and historical language of police violence and institutional racism to sanctimonious calls for unity.
Source:-theguardian