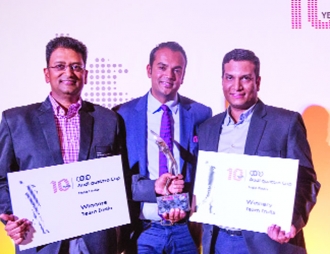 Celebrating the tenth anniversary of the Audi Quattro Cup in India at the Els Course in Dubai, Rahil Ansari, Brand Director, India for the German carmaker was looking forward to the carmaker reaching out to even more customers over the coming years through the sport of Golf.
"The Audi Quattro Cup (AQC) has become India's largest and most successful amatuer golf tournament. Over the ten years we have conducted this tournament across the country, we have had 12,000 competitors. While the AQC is a global event across 90 countries, its success in India has been very heartening."
In India there were ten regional rounds where players are teamed in teams of two which happens randomly. The AQC Finals were won by the Hyderabad-based pair of Srinivasan Namala and Srinivas Vallabhaneni. The winners will now take their place for the global AQC finals which will be held at the Quivira Golf Resort in Los Cabos, Mexico where they will tee off against 50 other teams. Overall, the AQC has been the longest running lifestyle outreach program by Audi globally for over 25 years, with over 90,000 players participating in 2017 alone.
But Ansari wants to take Audi India beyond Golf alone. "Our Audi Sportscar Experience (ASE) program under which our customers and fans can experience the best of Audi's sportscars such as the RS6 and supercars such as the R8 at the Buddh International Circuit has been so successful that now we are taking it to other cities as well, and helping create temporary tracks on places like airfields where people can experience these cars." Even where tracks are not available, Ansari said that Audi is experimenting with other formats such as their 'Weekender' initiative where offroad circuits are made. Ansari said that the carmaker is also keenly pushing programs for women drivers as well. "Women play a key role in the decision-making when buying a luxury brand. Increasingly younger women are driving themselves. We want women to experience how Audi cars perform and get them to have fun behind the wheel and hopefully drive themselves." In addition, the German carmaker is also exploring other outreach opportunities in lifestyle and fashion and Ansari said that Audi will be making an announcement around the world of fashion shortly.
With the brand having tied by Virat Kohli as a brand ambassador several years ago, "Virat was an Audi fan well before we signed him on, he wanted to come onboard", Ansari explains, the brand has also looked at Bollywood having Iliana D'Cruz on board.  "In the coming months we will announce something big with another famous personality, but we will keep the name a surprise for now."
["Source-dailypioneer"]