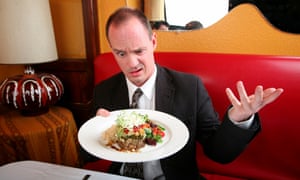 In restaurants up and down the country, it seems to have become acceptable for customers to send back a dish because they don't like it. Not because it was cold, or too salty, or because of an untimely delay in the kitchen, but purely because they happened to make the wrong call. I have some sympathy. I bought a pink scarf a few weeks ago that I thought suited my colouring, but, catching sight of my reflection later, I realised it made me look washed out. It didn't occur to me ask for a refund.
And the same goes with restaurant meals – disappointments happen. We're all familiar with that pang of envy when your dining companion's choice looks sexier than your own. And, with the not inconsiderable costs of eating out in some places, it is only human to begrudge paying for something you've decided you're not going to enjoy.
However, what people don't tend to think about is that the moment you complain to a server about a dish, you subtly alter the very experience you are paying for. Any restaurateur will tell you this. Everything changes; a spell is broken, and a kind of electric charge spreads from your table around the room at what Rachel Cooke recently called "a peacock display of repulsive 21st-century entitlement". Other diners crane their necks to see how it will end; it is your job as a restaurateur to try to restore equilibrium.
You can do one of many things. Assuming your conscience is clear, and you know your chefs have sent out the very best the kitchen has to offer, you can try to talk them through the dish's merits. If that fails, and a customer is determined to make a scene at all costs, you have to make a split-second decision as to how the situation can be salvaged. Often, that means offering a refund, or a substitution at no extra cost.
In commercial terms, it makes no sense; and yet those of us who care about our restaurants will do it. Not because we fear a bad online review (it turns out punters are quite shrewd at reading between the lines of a vitriolic post), but because what we are offering our guests is hospitality. As Jesse Dunford Wood, owner of Kensal Green's Parlour, says: "Essentially, people are coming to our house for dinner. I might be a fool, but I'm in the business of making people happy."
And, of course, complaints keep us on our toes. Fatizah Shawal, owner of Paddington's Satay House, says: "Feedback is useful to pass on to the kitchen. We always own up if we have made a mistake, and try to talk customers through all the weird and wonderful ingredients that go into our dishes before they order, to avoid misunderstandings and help them make the right choice."
For me, one of the joys of running a restaurant is being able to turn a difficult situation around. As Dunford Wood says: "The dangerous thing about waiting tables is that you never know who's going to walk through the door." Each diner carries within them a combustible charge of emotions, memories and expectations. It's what makes the job so rewarding. Without spelling it out, you have to let them know that even the least capable chef de partie has a kind of contrary pride in the food he or she prepares, that complaints are endlessly agonised and ruminated over in the kitchen, long after the lights are out, service has ended and everyone has gone home.
It's not all about the money. As Danny Meyer says, in his seminal book on hospitality, Setting the Table: "In the end, what's most meaningful is creating positive, uplifting outcomes for human experiences and human relationships. Business, like life, is all about how you make people feel. It's that simple, and it's that hard."
[Source:- The Gurdian]