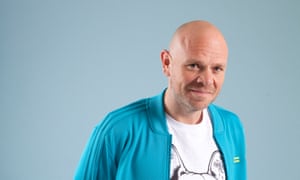 I'm a very happy, fat, bald bloke who sounds like a pirate. If I wasn't a chef, I'd probably be driving a white van, delivering furniture. But I'd be delivering it really, really well.
My wife, Beth, is my complete opposite. She has to have a totally clear head to be able to work freely – I don't like sitting still. It's harmonious. She knows that I know where her car keys are.
Fart jokes never stop being funny. I'm the person most likely to doodle rude pictures on people's notepads. Kitchen life is full of banter and taking the mickey out of each other – you need to have a thick skin to survive.
My mum brought me and my brother up feeling completely loved. There was never any money: at school, we were the kids with rubbish trainers, not smart ones. But we never felt like we went without.
The nuclear family isn't everything. There were all sorts of reasons why my parents divorced. You'd have to ask my dad. But life is too short to be unhappy.
Learning to cook is like learning to drive: anyone can do it and the more you practise, the better you get. I do have an affinity for flavour, but that's come from years of experience.
I know I'm lucky. At 18 I found a job I wanted to do for ever, and at 25 I met a woman who was the most incredible, amazing person I've ever met – and still is. So many people don't get that.
It's very easy to get caught up in a habit of work hard and play hard. I couldn't tell you how much I used to drink in a week – I haven't got enough fingers. I own two pubs and had built up a reputation of being the best party person in the industry. It got to a point where I realised I was getting too old to be that guy. Now I enjoy the challenge of being on a stag weekend for three days, but drinking Diet Coke and coffee.
With friends, it's good to know where you stand. I've surrounded myself with people who are very open. Lots of the blokes I know are very emotional: we have honest conversations.
Kitchen hierarchy is real. I'm the chef, I'm in charge. But I try to make sure they call me Tom.
I love it when people get really wound up about football. I support Marlow FC, and my favourite chant is 'Gary Barlow lives in Marlow'. He doesn't, though.
Pubs have to offer a lot more than just booze to survive. Any way of keeping people using them as a social meeting place is great. My perfect pub quiz team would be Beth on art and literature, [racing driver] Jason Plato on sports, and Heston Blumenthal on science and nature. I'd roll with the general knowledge questions.
[Source:- The Gurdian]