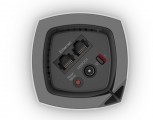 WiFi mesh devices are really gaining popularity these days. Google started it's own system months ago and it looks like the big names in the network industry also joining the game.
Linksys launched Velop – its home WiFi mesh system with up to three devices in package and Alexa for additional voice services. These gadgets are really useful if you live in a big apartment or house with multiple floors with many rooms but you do not want any amplifiers with questionable quality.
The setup of Linksys Velop is pretty simple – you basically set all the devices like a mesh system and have WiFi in every corner of your home, even backyards or basements. The manufacturer says that using Tri-Band solution it resolves bottlenecking and outperforms range extenders and traditional routers. Linksys also states the setup can reach up to 500 square meters of property.
Linksys Velop
Velop comes with a smartphone app that lets you control the network remotely. It also gives you the ability to turn on Parental Control and to Speed Test your connection and see if your ISP is providing the service you are paying for. You can also find an integration of Amazon Alexa which can turn on/off the guest network and answer other voice commands.
The Velop costs $200, a 2-pack goes for $350 and the full package of three routers is $500. All the configurations are currently available at their website with a slight discount.
[Source:- GSMarena]