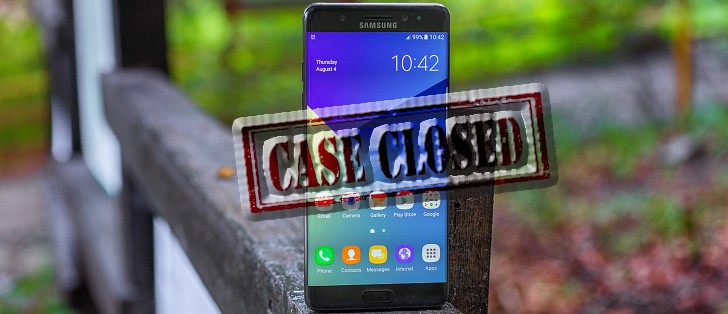 Samsung may have ended its thorough investigation into the Galaxy Note7 explosions, but the government's case was yet to confirm the manufacturer's findings. And today it just did that.
Samsung announced the batteries were the only thing to blame for all Galaxy Note7 incidents. The company has detailed its completely overhauled testing procedure for all the batteries to come. The manufacturing process would be improved for better safety, too.
The Korean Agency for Technology and Standards, under the jurisdiction of the Ministry of Trade, Industry, and Energy, has done a separate investigation into the Note7 issues, and its findings were made public today. The Agency has found the batteries produced by both Samsung and ATL to be the culprit for all Note7 fires and explosions.
Indeed, the lack of proper insulation and/or damaged electrodes in the batteries made them hazardous. The rapid growth in battery manufacturing, insufficient safety regulations, and limited testing procedures are to blame for the issues.
The press release also stresses that the Agency tested everything else and found no other issues.
The South Korean government is working on new regulations so the Note7 fiasco never repeats itself. Those will be mandatory not only for the batteries produced in South Korea, but for all imported batteries as well.
Even though the expected new regulations will apply starting next year, Samsung has already announced new procedures in the battery manufacturing process that will prevent such issues to ever happen again.
So, with the Galaxy Note7 case now officially closed, we can all move on and look forward towards the Galaxy S8. The upcoming flagship was delayed for further testing and will probably launch in April.
[Source:- GSMarena]