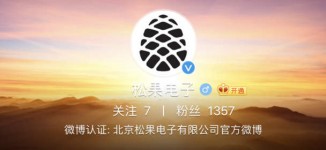 A couple of years ago Xiaomi unveiled the Redmi 2A – a phone powered by a Leadcore chipset. You'd be forgiven if you haven't heard the name before, but both companies partnered to create Beijing Songguo (of which Xiaomi controls 51%, Leadcore the other 49%).
That collaboration may may finally be bearing fruit – a Pinecone. That's the name of a new chipset and it already has an official Weibo page (that is very light on details, there's the logo and little else).
According to rumors, the initial release will feature two models. Pinecone 1 will have an octa-core Cortex-A53 CPU while the Pinecone 2 will be more powerful with four A73 cores and four A53 cores. There's no word on the GPU, just some dubious rumors that the chip will be made to the cutting edge 10nm process.
The Xiaomi Mi 5c may be the first phone to use the Pinecone chipset, though earlier rumors pointed to Snapdragon 625 instead. It could well be a regional thing – Snapdragon for the West, Pinecone for the East. So far, Xiaomi has relied on Qualcomm's Snapdragons and MediaTek's Helios (though MediaTek tends to get in patent fights in the West).

[Source:- GSMarena]