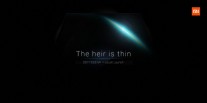 Xiaomi's conquest west continues and in just a few hours we'll witness the first ever CES event from the young company. Tantalizingly, the CES page on Mi.com promises a "2017 CES Mi Product Launch." The event starts at 7PM GMT and it will be broadcast live on YouTube.
Here's the thing though, the new product may prove to be a coat of paint – a teaser image published a few days ago hinted at a White version of the Xiaomi Mi Mix. Not that we're complaining, the Mix is one of our very favorite phones of 2016 and it could look cool in white.
Better yet, an announcement at CES might mean that Xiaomi will offer the Mi Mix in the US through official means. That's more wishful thinking than actual possibility though as Xiaomi is yet to release any phones in the US, much less one that's been explicitly confirmed as a China-exclusive.
Additional teasers from Xiaomi hint at fitness trackers – a new band, perhaps, or the Amazfit landing in the US?
[Source:- GSMarena]